Annamarie Bondi-Stoddard Named One of The Top Attorneys by New York Metro Super Lawyers!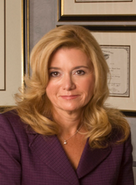 Annamarie Bondi-Stoddard, managing partner of Pegalis and Erickson, was one of only seven female lawyers named to the most recent New York Metro Super Lawyers list of top attorneys in the plaintiff medical malpractice category.
Bondi-Stoddard joined Lake Success-based Pegalis & Erickson in 1984, a year after she earned her law degree from Boston University. She quickly moved up the ranks, becoming managing attorney in 1986 and managing partner in 2001. Bondi-Stoddard represents plaintiffs in a wide range of medical malpractice cases, including women's health issues and birth injuries, as well as surgical, neurosurgical, cardiac and cancer-related cases, in which negligence is involved.
When you or a loved one has suffered an injury due to malpractice, it's time to contact your Long Island law firm. Give the medical malpractice attorneys with Pegalis & Erickson a call at (516) 684-2900 to set up an initial consultation. We handle a wide variety of medical malpractice cases, including those affecting children.