Prostate Cancer Awareness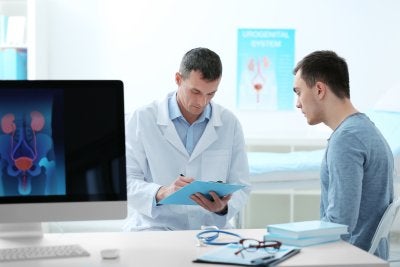 This September, you might notice blue ribbons around your town. These signify National Prostate Cancer Awareness Month, which is the second-most common cancer in American men, after skin cancer. Since prostate cancer often doesn't cause symptoms until the disease is already advanced, it's necessary for doctors to recommend screening tests as appropriate. Not all doctors stay on top of recommendations for screenings, which, in some cases, may form the basis for a medical malpractice lawsuit. However, you can protect your health by being proactive and asking your doctor about getting screened.
There are two main screening tests. The first is the prostate specific antigen (PSA) test, which is a simple blood test. The second is a digital rectal exam (DRE), which involves feeling the prostate gland to check for abnormalities and assess its size. Confirming a diagnosis of prostate cancer requires more tests, including imaging scans and a biopsy.
Pegalis & Erickson, LLC welcome requests for case reviews regarding medical malpractice on Long Island, New York. Call (516) 684-2900 if you think you or a loved one may have suffered ill effects from a delayed diagnosis of prostate cancer.