How Cerebral Palsy Affects Milestones in the First Year of Life
Cerebral palsy is a condition that affects an individual's ability to move. It can develop as a result of injury to the brain, sometimes due to mistakes made by medical staff during the delivery process. If your infant has cerebral palsy, the symptoms of the condition may become noticeable during the first year of life. If you notice delays with the following milestones, talk to a physician about whether your child may have cerebral palsy:​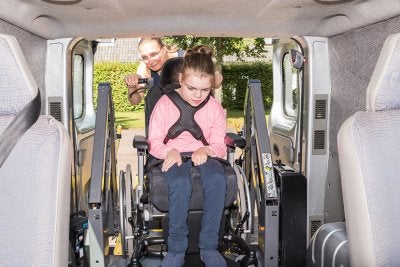 Social Smiling
While babies deliver spontaneous smiles very early on, they don't begin social smiling—that is, smiling as a response to something else—until about six or eight months. This is an important development in the bonding process between a baby and his or her parents. However, cerebral palsy can interfere with this stage and affect the ability to smile as a social response.
Sitting Up Without Assistance
Most infants are able to begin sitting up independently, without being held or propped up, by the age of about six or seven months. If an infant has cerebral palsy, however, the condition can affect the motor skills required to sit up. If your baby is having trouble sitting up or holding his or her head up by seven months, it may be a sign of cerebral palsy.
Reaching and Grabbing
One of the most important milestones comes when an infant begins reaching and grabbing for things—such as toys, stuffed animals, or their mother's hand. This is when babies first begin exploring the world around them through the sense of touch. Cerebral palsy, however, can slow down this progress, as it affects the development of fine motor skills.
If you are concerned about a misdiagnosis or possible medical error, contact the law firm of Pegalis & Erickson, LLC, in New York. For 45 years, we have advocated for people of all ages, in order to help our clients financially and make healthcare safer for everyone. You can reach us today by calling (516) 684-2900.